Welcome To mycastleton.com
Welcome to the website for the Castleton Strategic Revitalization Plan. Please explore the website to learn about the project and get involved.
What this Project Is
Though land along 82nd Street and surrounding the I-69/I-465 interchange is seemingly fully developed with housing, offices and commercial centers, the area is poised for something more. Aging development, evolving trends, and a rapidly changing retail environment can lead – and in some places is already leading – to less desirable uses, vacancy, degradation, and devaluation. These changes represent a critical moment for surrounding neighborhoods and viable businesses to think forward to the next version of this area.
These building blocks, along with others that will be discovered during the planning process, will trigger enthusiasm, imagination, and transformation. This process will prepare a comprehensive, high-level vision for the revitalization of Castleton. Alongside and integral to this high-level vision will be an action-oriented set of prioritized implementation steps, intended to identify near-term catalytic redevelopment opportunities and infrastructure improvements as well as longer-term recommendations.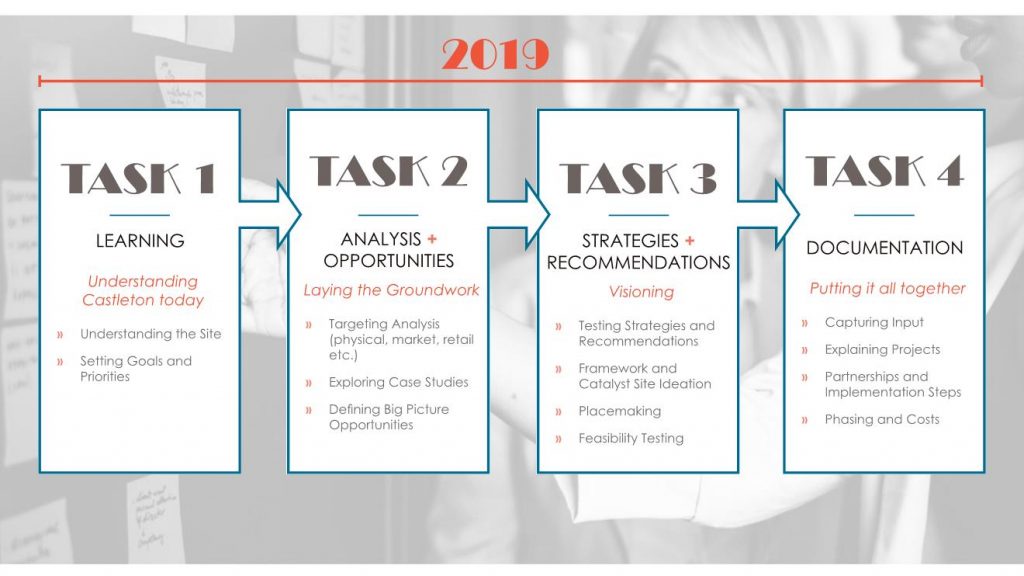 Project Location and Boundaries
The study area for this plan consists of a larger economic study area, within which a smaller, redevelopment focus area will be identified. The larger economic study area consists of the commercial, industrial, and multi-family property in the Castleton area, roughly bounded by White River on the west, 96th Street on the north, Hague Road on the east, and 75th Street, I-465, and 82nd Street on the south. The redevelopment focus area will be focused on the 82nd Street Corridor between I-465 and I-69. The larger economic study area is 4.5 Square Miles / 2,790 Acres in area.